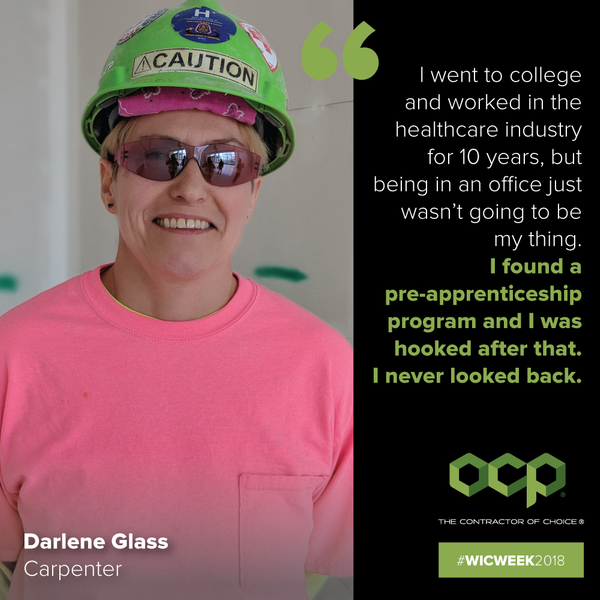 Darlene Glass
CARPENTER
INDUSTRY TENURE: 16 YEARS
How long have you been in the industry? 16 years, I've been with OCP for 6 years.
What brought you to the construction industry and what made you stay? In my generation, women in construction wasn't a thing, I didn't even know it was an option. So I went to college and worked in the healthcare industry for 10 years and did management there. And then just needed to get out because being in an office just wasn't going to be my thing. So actually a friend of mine when I was trying to figure out what I wanted to do said "you should get into carpentry because you like to build stuff." Even then I was always building things. So I did some research and found a pre apprenticeship program through an organization called Hard Hatted Women. So I did their first Hands On Saturday and I met a lot of the ladies that were in construction and had been in for a long time and had been successful, and I was hooked after that. After that first Hands On Saturday I was like "yeah, I can do that." To think you want to do it as your hobby is one thing, but to actually do it all the time is different. So I left, and I never looked back. I could never go back to an office job now.
What is your favorite aspect of your job? Working with my hands everyday. Knowing at the end of the day that I've done something, I've built something. I drive around the city and I can show people my work. I also love when I'm on a job long enough to see people move in and use everything we've built. To see it actually being used, I love that part. I take a lot of pride in knowing that I built that.
What development, thus far, has brought you the furthest in your career? I think education. There's been a lot of education. I'm always taking classes and trying to improve my skills and experience. All of those things and working experience helped build my self confidence. I think that makes you feel more confident and bolder, and you're going to speak up more and take charge more. That's helped me a lot.
How have women's roles in the industry changed since you started? I think maybe the written rules have changed. I don't think the roles have changed. Our percentage has not increased in recent years. We're still a small percent of the workforce. Some people see us as trades people, you know another carpenter on the job, and some people just look at us as "quota fillers", and we can get reminded of that quite often. Unfortunately, it hasn't changed a lot. So we just come in and we do a good job everyday and we work hard. I think the only way to change things is to prove yourself, that you belong here. So that's what I do everyday.
To learn more about Hard Hatted Women, visit https://www.hhwohio.org/.