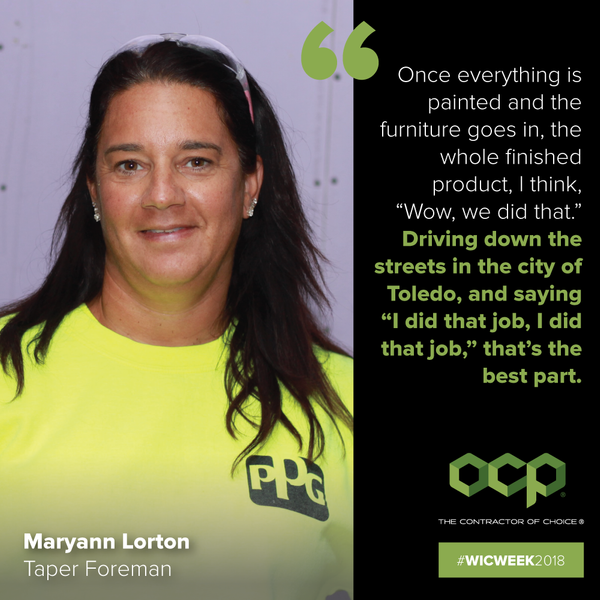 Maryann Lorton
TAPER FOREMAN
INDUSTRY TENURE: 24 YEARS
How long have you worked for OCP and how has your role progressed? I've worked for OCP for 24 years, and I started as an apprentice. My very first job was with OCP and I have worked and became a journeywoman, and now in the past year or two I've been job foreman and running some smaller jobs, getting used to running a lot of work and manpower.
Are you enjoying that part of your job? Yes, I enjoy doing that, and getting into more of the building, you know, understanding more how we get to the finished project. It's interesting to see how everything progresses.
What is your favorite aspect of your job? I would say the finishing product, once it's painted and everything, the furniture gets in, just the whole finished product, how like "wow, we did that," you know, and driving down the streets, the city of Toledo, and saying "wow, I did that job, I did that job," it's kind of neat to see that.
How did your career in construction begin? My father was a plasterer and I was around it my whole entire life, and so pretty much that's how I got started.
What's your favorite project you've worked on? I would probably say Cabela's. It was probably one of the biggest projects I was on, and it was ran correctly. It was just neat to see, you know, the mountain erect, and just how the whole building went up. With the aquariums and other aspects it was just a very interesting job. Plus, the people that owned it were very kind.
What has been the highlight of your career in construction? My highlight I would say has been progressing in my trade, progressing more into the foreman that I want to be.