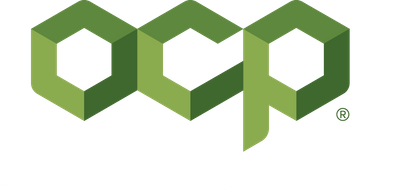 The Barney Paskiet Memorial Trade Scholarship
The Barney Paskiet Memorial Trade Scholarship is a scholarship of up to $3,000 that was created to provide financial support for trade students and OCP 1st year apprentices. Applying for the scholarship is simple; 1. complete a 1,000-word essay 2. submit two letters of recommendation 3. complete the form below. The scholarship application will close on July 31st, 2022.
We look forward to receiving your application. If you have any questions on the application process, please contact us at hr@ocpcoc.com
Join the #ContractorofChoice
Through Barney Paskiet's vision, consistent innovation, skill, quality, passion and the industries best team (to name a few), OCP is proud to build to in communities throughout Ohio. The students awarded the Barney Paskiet Memorial Trades Scholarship in our Toledo, Cleveland, and Columbus office will become a part of the OCP team and receive financial support through apprenticeship training.
See how you'll be #DefiningtheSkyline with OCP Contractors in the gallery below.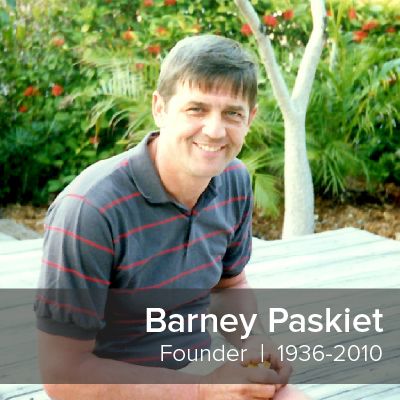 In Loving Memory of Barney Paskiet
Barney Paskiet began his career as a Lather in the trades. After building a reputation as a hardworking and skillful plasterer, Barney's love for the construction industry brought him to start Ohio Ceiling and Partition in 1968. Barney Paskiet began OCP with a mission to construct with integrity, safety, and excellence in mind. Beginning solely in the Toledo market, OCP quickly grew a reputation for excellence with consistently well-constructed projects guided by Barney's vision.
Barney's passion for people and the community introduced OCP to small commercial jobs and even residential jobs within the Toledo area. After repeated project success, the opportunity to work on high-profile jobs became standard within the business. With each show of skilled workmanship, OCP's reputation grew into the commercial market allowing for expansion in the Ohio market with offices in Cleveland and Columbus now as well.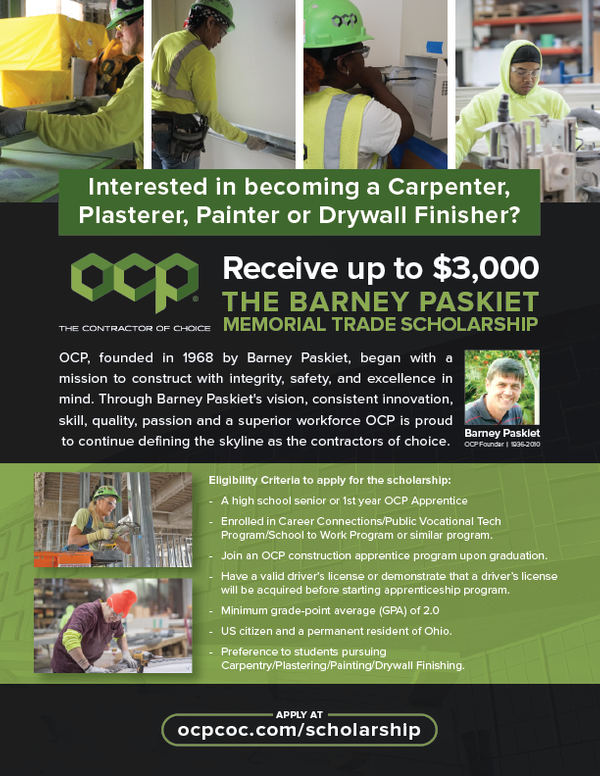 The Application Process is Simple
Purpose:
This scholarship will provide financial assistance to deserving Ohio students or OCP apprentices who are interested in entering the trades and becoming a Carpenter, Plasterer, Painter or Drywall Finisher specifically.
Eligibility Criteria to apply for the scholarship:
1. Must be a high school senior or OCP 1st year apprentice.
2. Must be enrolled in Career Connections/Public Vocational Tech Program/School to Work Program or another similar program.
3. Preference will be given to students interested in pursuing Carpentry/Plastering/Painting/Drywall Finishing.
4. Must express interest in joining a construction apprenticeship program upon graduation.
5. Must have a valid driver's license or demonstrate that a driver's license will be acquired before starting the apprenticeship program.
6. A minimum grade-point average (GPA) of 2.0 is required.
7. Must be a citizen of the United States and a permanent resident of Ohio.
Must meet the following criteria at the time of the scholarship disbursement:
1. Must have been accepted in the trades.
2. Must be able to pass a drug test at the time of application to an apprenticeship program.
Application Method: Submit a Scholarship Application through our website below.
Additional/Special requirements for application:
1. Write a 1,000-word essay stating why you should be receiving the scholarship.
2. Two letters of recommendation. Both must be from teachers and/or a guidance counselor to confirm that you meet the eligibility criteria and describe your professional excellence.
One-time award: This is a one-time award and may not be renewed for subsequent years. Current OCP employees may use the scholarship to purchase tools.
Timeline:
03-15-22 Scholarship Applications OPEN.
07-31-22 Scholarship Applications CLOSE at 11:59 pm.
08-01-22 The Successful Applicant will be notified by email.